His body was found hanging in the storeroom of the college hostel at 9 pm. A third-year civil Engineering student of Kathir College of Engineering was found dead on Thursday in Neelambur, Coimbatore. His body was found hanging in the storeroom of the college hostel at 9 pm.
The deceased student, Vignesh, hails from Erode. His family alleged that the college authorities did not inform them about his death.
Shanthi, the mother of the deceased student said, "I called him on Wednesday night but the warden picked up the phone and said that her son was giving an examination and all the phones have been collected by the administration. I kept trying to call him throughout the night. On Thursday morning, I spoke to one of Vignesh's friends. He told me that Vignesh was being framed by the college authorities and he did not do anything wrong. Around 1:30 pm, my son called me and told me that they are saying that he consumed alcohol and hit another student. He was crying and he was repeatedly saying that he did not do anything."
In the suicide letter, he wrote, "The cashier on Wednesday took me to the CEO and principal, falsely accusing me of consuming alcohol. They asked me to write a letter and give. In the end, when they told me that they will let me go if I write this letter, I agreed to write it but I did not consume alcohol."
Vignesh's friends found him and took him to Coimbatore government hospital where he was declared dead on Thursday night. His mother said that she will not be collecting her son's body until action is taken against the college authorities.
Talking to reporters, Vignesh's sister Elakya said, "My brother was punished for something he did not do. He was tortured by the college authorities. They took away his mobile phone and ID card for two days. He was also locked up in his room. His friends told us that he was punished for drinking alcohol but he never drinks alcohol."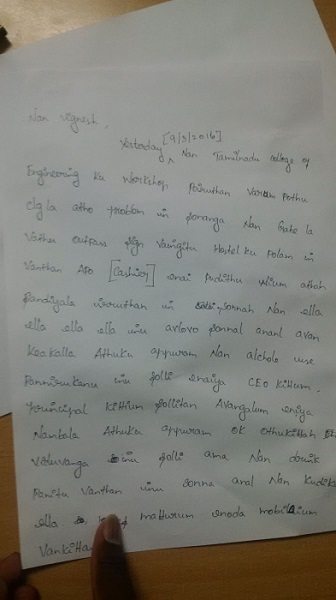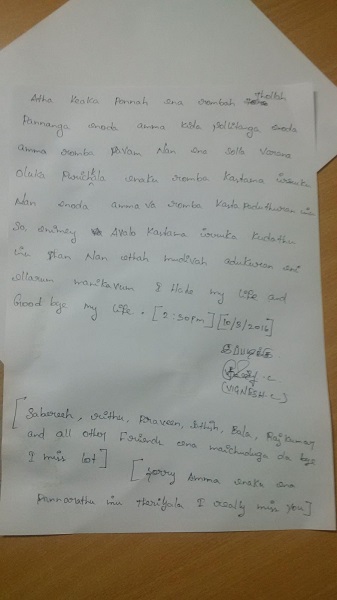 She also added that the police asked them to sort out this case amicably.
"The police will not take any action as the college belongs to a former AIADMK member. The police are favouring them. The management should come and tell the police what happened. Till then, they will not accept the body or send it for postmortem," she said.
She said that he committed suicide at 3:00 pm on Thursday. He was found hanging in the store room by his friends around 8 pm and was immediately taken to the hospital. The family was informed of his death by the students on Friday morning.
She also alleged that in the past the college had tortured her brother falsely claiming that fees were not paid. He was also not provided proper food at times.
According to sources, the students protested outside the college on Thursday night and also damaged college equipment. The police have not filed a case against the college till now. The college authorities were unavailable for comment.